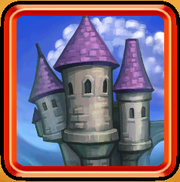 Castle is the fith level to be unlocked, after the Windmill. Unlocked next is the Ghost Town.
The basic monster are rats, the big enemies are wolves and the flying enemies are crows.
Unlock the next level
Edit
Knight:15 muffins
Prince:20 muffins
King:25 muffins
Dark Lord:30 muffins
Emperor:35 muffins
| | |
| --- | --- |
| | Castle terrain |
Ad blocker interference detected!
Wikia is a free-to-use site that makes money from advertising. We have a modified experience for viewers using ad blockers

Wikia is not accessible if you've made further modifications. Remove the custom ad blocker rule(s) and the page will load as expected.