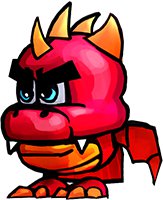 "This tiny winged guy has an explosive temper. Its thick fire runs down walls like a flaming river."
— Official Description
The Dragon is a character that attacks by breathing, high damaging, fire. The longer the fire is used (without releasing the attack button), the more effective it is. Hence, it should be used not as a last resort when enemies come charging but should be used in advance.
Template:Characters
Ad blocker interference detected!
Wikia is a free-to-use site that makes money from advertising. We have a modified experience for viewers using ad blockers

Wikia is not accessible if you've made further modifications. Remove the custom ad blocker rule(s) and the page will load as expected.