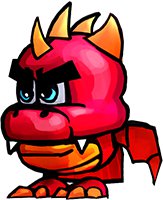 "This tiny winged guy has an explosive temper. Its thick fire runs down walls like a flaming river."
— About Dragon
"Ten malutki skrzydlaty typ ma wybuchowy temperament. Jego gęste, ogniste ściany spływają niczym rzeka płomieni."
— Opis Smoka
Smok (ang. Dragon) - jedna z 18 postaci występujących w grze. Smok nie jest odblokowany od początku gry. Jest bardzo lubianym charakterem, ze względu na siłę i skuteczność stosowanego ataku. Gdy trzymamy przycisk ataku, smok (jak nie trudno zgadnąć) zieje ogniem. Gdy Smok ustawi się w taki sposób, aby wrogowie mogli napływać tylko z jednej strony, jest w stanie bronić się praktycznie w nieskończoność, nawet na najniższym poziomie. Z tego powodu Dragon często używany jest do oczyszczenia planszy z wrogów, którzy przedostali się wcześniej do dołu (ang. pit).
Cały Smok jest czerwono-różowy. Na głowie na rząd kolców. Posiada równierz skrzydła, jednak oczywiście ich nie używa. Podczas ziania ogńiem postać buja się miarowo w przód i tył.
Ciekawostki
Edit
Podczas ataku, smok podpala powierzchnię, na którą zieje ogniem i w gruncie rzeczy to płonące podłoże zadaje wrogom największe obrażenia.
Ad blocker interference detected!
Wikia is a free-to-use site that makes money from advertising. We have a modified experience for viewers using ad blockers

Wikia is not accessible if you've made further modifications. Remove the custom ad blocker rule(s) and the page will load as expected.