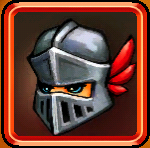 "Noble warrior, armed with just a bow and a lot of courage."
— Description
The Knight is the first character in the game and it attacks by shooting arrows forward to deal minor damage. Once unlocked, the heavy attack can be used by keeping hold of the Attack Button. It charges up an attack which shoots multiple arrows at once, dealing major damage. You start every round as the Knight.
Appearance
Edit
The Knight is a medieval soldier dressed in a suit of metal armor, with the helmet nearly reaching down to the waist, and a red cape. A slit in the helmet reveals the Knight's fierce, blue eyes and light skin.
Upgrades
Edit
Level
Upgrade Points
Stats
Notes
1
0

Damage

Speed

Bronze arrows.
2
1

Damage

Speed

Arrows are silver. Unlocks heavy attack which fires two arrows.
3
2

Damage

Speed

Arrows are gold. Heavy attack fires three arrows.
Unlock Requirements
Edit
| Knight Mode | Prince Mode | King Mode | Dark Lord Mode | Emperor Mode |
| --- | --- | --- | --- | --- |
| Unlocked at start. | Unlocked at start. | Unlocked at start. | Unlocked at start. | Unlocked at start. |
Ad blocker interference detected!
Wikia is a free-to-use site that makes money from advertising. We have a modified experience for viewers using ad blockers

Wikia is not accessible if you've made further modifications. Remove the custom ad blocker rule(s) and the page will load as expected.