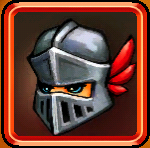 "Noble warrior, armed with just a bow and a lot of courage."
— About Knight
"Szlachetny wojownik, uzbrojony tylko w łuk i dużo odwagi."
— Opis Rycerza
Knight (Rycerz) jest to pierwsza postać w grze, a za razem jeden z głównych jej symboli. Rycerz atakuje wystrzeliwując strzały z łuku, zadające niewielki obrażenia, jednak jego ogromną zaletą jest szybkostrzelność. Na drugim i trzecim poziomie Knight zyskuje możliwość zastosowania specjalnego ataku, który stosuje się przytrzymując przycisku ataku (ang. Attack Button). W ten sposób Knight wypuszcza dwie lub trzy strzały (zależnie od poziomu ulepszenia). Każdą grę zaczyna się jako rycerz. Przyjemność walki tą postacią mamy również po ponownym pojawieniu się na planszy, gdy zostaniemy uratowani przez towarzysza w trybie multiplayer - co-op. W efekcie Knight jest najczęściej używaną postacią, oprócz postaci specjalnej Bull, której posiadanie nie jest zależne od zbieranych mufinek.
Knight jest średniowiecznym wojownikiem, odzianym w pełną metalową zbroję. Posiada chełm z opuszczoną przyłbicą. Jest uzbrojony w drewniany łuk. Ma jasną skórę i niebieskie oczy.
Ulepszenia
Edit
Poziom
Potrzebne punkty ulepszeń
Statystyki
Charakterystyka
1
0

Obrażenia


Prędkość

Brązowe strzały.
2
1

Obrażenia


Prędkość

Srebrne strzały. Atak specjalny (dwie strzały).
3
2

Obrażenia


Prędkość

Złote strzały. Atak specjalny (trzy strzały).
Wymagania do odblokowania
Edit
| Knight Mode | Prince Mode | King Mode | Dark Lord Mode | Emperor Mode |
| --- | --- | --- | --- | --- |
| Odblokowane na start. | Odblokowane na start. | Odblokowane na start. | Odblokowane na start. | Odblokowane na start. |
Ad blocker interference detected!
Wikia is a free-to-use site that makes money from advertising. We have a modified experience for viewers using ad blockers

Wikia is not accessible if you've made further modifications. Remove the custom ad blocker rule(s) and the page will load as expected.