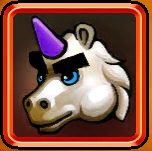 "Sir Poopsalot noble stallion, the unicorn was used in the sapper division of the middle-earth conflict."
— About Unicorn
"Sir Poopsalot szlachetny ogier, który był używany w oddziale saperów, w konflikcie w śródziemu."
— Opis Jednorożca
Jednorożec (ang. Unicorn), to pierwsza odblokowywana postać w grze. Unicorn ma możliwość zostawiania kolorowych kup, które wybuchają przy kontakcie w przeciwnikiem. Siła tego ataku jest bardzo duża, jednak duże przerwy między zostawianiem kolejnych min, są zdecydowaną wadą Jednorożca. Pocieszenie może stanowić fakt, że zastawione pułapki zostają na planszy nawet po zmianie postaci, i utrzymują się, aż do spełnienia swej powinności, albo śmierci gracza, który je zostawił.
Sierść Jednorożca jest cała biała. Ma fioletowy róg i niebieskie oczy.
Ciekawostki
Edit
Jednorożec został użyty jako zwierzę pociągowe do sani Mikołaja w jednym z poziomów gry: Santaville.
Ulepszenia
Edit
Poziom
Potrzebne punkty ulepszeń
Statystyki
Charakterystyka
1
0

Szybkostrzelność




Pole rażenia

2
1

Szybkostrzelność




Pole rażenia

3
2

Szybkostrzelność




Pole rażenia
Ad blocker interference detected!
Wikia is a free-to-use site that makes money from advertising. We have a modified experience for viewers using ad blockers

Wikia is not accessible if you've made further modifications. Remove the custom ad blocker rule(s) and the page will load as expected.